Hello Visitor,
Welcome to the May 2017 version of the Temperate Agroforester. The newsletter welcomes contributions for future issues and input or feedback about anything that you read in this issue.
Katie Commender & Uma Karki, Editors - Temperate Agroforester
Events
| | |
| --- | --- |
| May 16, 2017 | Early Registration Ends |
| June 26 | Pre-Conference Tour |
| June 27-29 | Conference |
Membership
Are you a member of AFTA? If not consider joining by clicking here. Your membership gives you access to the members-only area, discounts on conference registration, and helps support AFTA's mission to promote agroforestry.
Contents
Taylor Larson - Landowner
When I tell people that our 300-acre farm has seven active family members involved in making management decisions, I always see the same smirk creep across their face followed by a comment along the lines of "that must be hard". I am not going to argue that any farming operation is "easy", but for us, agroforestry provides a framework for managing our farm as a whole system and, allows each of us to find roles best suited to our skillset and interests.
Read More
Kate MacFarland, National Agroforestry Center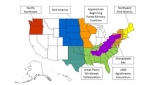 AFTA represents temperate North America, an area of diverse ecological, political, and agricultural characteristics. Many regions are associated with agroforestry working groups, communities, and networks that have a long history (Figure 1). Some of these groups were highlighted in the National Agroforestry Center's "25 Years" issue of Inside Agroforestry. These regional working groups have helped amplify awareness and establishment of agroforestry systems by providing regional expertise and networks for agroforestry education, outreach, research, and policy (Figure 2).
Read More
Pent & Fike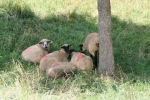 In addition to the products and environmental services provided, trees in silvopastures can benefit animal welfare through the provision of shade. The value of shade for livestock should not be defined merely by apparent gains in productivity as heat may negatively affect animal comfort and behavior prior to any noticeable decline in performance. The objective of a recent study at a 20-year-old hardwood silvopasture site in Blacksburg, VA, was to document not only the productivity of these systems, but also the benefits to sheep comfort and behavior.
Read More
Susan K. Bambo, PH.D., Federation of Southern Cooperatives/Land Assistance Fund, Epes, Alabama.

Two common methods to establish silvopasture system is either planting trees on pastureland or thinning trees in the existing forests to create space for growing the understory vegetation. Due to economic constrains, limited resource landowners interested in adopting silvopasture system look for alternative methods to establish silvopasture as a way of land management. Apart from the usual methods of adopting silvopasture, farmers in West Alabama are using small ruminants to clear the understory vegetation that are naturally grown in the forest stands.
Read More