As many of us wait anxiously for in-person events to resume, the 2021 North American Agroforestry Conference (NAAC), "Scaling Up Agroforestry for Carbon Drawdown", is moving forward as an online event scheduled for June 28th to July 2nd. This year's conference, which is co-hosted by AFTA and the Savanna Institute, seeks to maintain a high level of networking and engagement while taking advantage of the opportunities provided by an online format.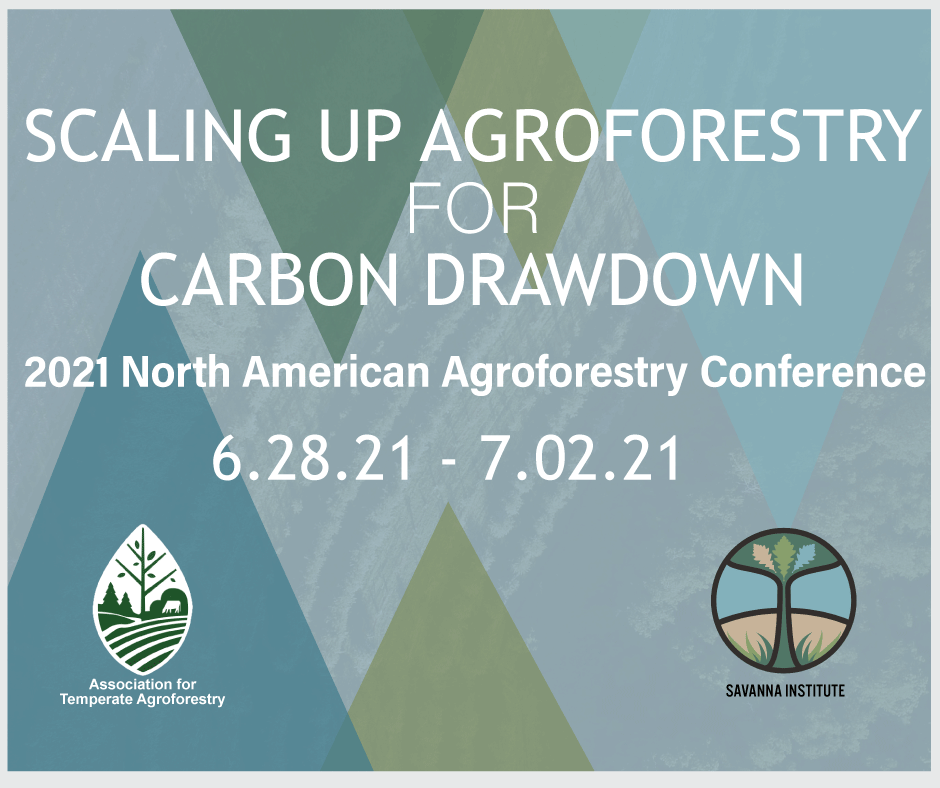 The 2021 NAAC will bring together farmers, landowners, researchers, climate scientists, investors, philanthropists, policymakers, and global leaders on climate change, carbon drawdown, and agroforestry. Conference sessions and presentations will address the major barriers to scaling agroforestry, focusing on solutions and action. The work to establish and scale up agroforestry for carbon drawdown has only just begun, but the potential is enormous. One acre of alley cropping can sequester nearly a ton of carbon in woody biomass alone (Wolz et al. 2018). Silvopasture is #4 on Project Drawdown's list of natural climate solutions. And even a modest adoption of agroforestry outperforms many other agricultural land-use changes in its potential for carbon sequestration.
Shifting to a fully virtual format has simplified some aspects of this year's conference while making others more challenging. The ease of access to online presentations and recordings will hopefully draw a much larger and wide-ranging set of attendees than previous NAACs. The difficulty of networking and connecting with colleagues can be mitigated to some degree thanks to new online platforms that allow participants to navigate a virtual event space and join video conversations, a bit like an online cocktail party. The virtual nature of the conference has also made it possible to invite a number of speakers who might otherwise be unavailable due to cost or time commitments.
This summer's event will be designed using lessons learned from the most recent Perennial Farm Gathering hosted in December 2020. This event, which was also fully online and co-hosted by the Savanna Institute and AFTA, drew over 500 participants - its highest attendance to date - from 50 different states and provinces, demonstrating the expanded audience made possible by this format. Presenters and participants interacted via Zoom webinars and chat rooms, and a number of promising additional networking tools were suggested by attendees. We are fortunate to have the 2020 Perennial Farm Gathering as a template for the upcoming conference.
Registration
You can register for the conference at: https://www.savannainstitute.org/agroforestry-2021/
Sponsorships
You can support this year's NAAC and gain visibility for your organization with a conference sponsorship. All sponsorship levels include a display space in the conference's virtual lobby, your logo on the sponsorship page of the program, and at least one complimentary conference registration. You can learn more at: https://www.savannainstitute.org/naac-2021-sponsorship/
References
Wolz KJ, Branham BE, DeLucia EH (2018) "Reduced nitrogen losses after conversion of row crop agriculture to alley cropping with mixed fruit and nut trees." Agriculture, Ecosystems and Environment 258: 172–181.