Forest farming in North America is sometimes a family tradition passed down through generations and sometimes a much larger concerted community effort. Regardless of how it is carried out, the internet is changing the way we learn about and share forest farming techniques. The Forest Farming Video Series (www.youtube.com/user/exforestfarming) is an initiative within eXtension's forest farming network (www.extension.org/forest_farming). It is sponsored by the US Department of Agriculture's National Institute for Food and Agriculture and Forest Service and brings together forest farming experts and experienced agroforesters from across North America to develop, film, and broadcast informative interviews, production techniques, and on-the-ground demonstrations.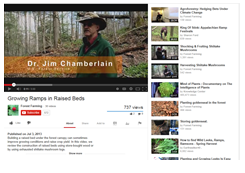 The videos are posted on a YouTube channel, which has significantly grown since its inception less than a year ago. Within the first month, the channel accumulated 500 views, but had no subscribers. Its lifetime views are now over 86,000 with 500 subscribers. Filming has occurred in both the United States and Canada and content continues to grow. The channel includes a series on the cultivation of ramps, shiitake mushrooms, ginseng and goldenseal. Maple syrup, black walnut syrup, sustainable harvest and production of fiddlehead ferns will soon be added.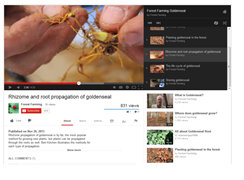 Once the videos are uploaded, the public is free to watch at their convenience and share at will. A total of 53 shares have been recorded, bringing in views from a growing audience. The United States, Canada, United Kingdom and Ireland make up the four top locations by viewership. Accessibility of the videos is multiplied when delivered through social media platforms. In this way, a wide range of viewers are reached and channel activity can be recorded through analytics. The numbers all point to a growing interest in agroforestry. Feel free to check out the channel when you have time, and share with interested landowners and other audiences as you see fit.