Hello Visitor,
Welcome to the pre-NAAC edition of the Temperate Agroforester!
In this special pre-North American Agroforestry Conference edition of the Temperate Agroforester we will be highlighting exciting speakers and events that will be featured at the virutal conference. NAAC 2021 will bring together farmers, landowners, researchers, climate scientists, investors, philanthropists, policymakers, and global leaders on climate change, carbon drawdown, and agroforestry. There is still time to register to attend the virtual NAAC from June 28 to July 2. Together we will tackle the major barriers to scaling agroforestry, focusing on solutions and action!!!
Registration and the Conference Schedule can be found at: https://www.savannainstitute.org/agroforestry-2021/
Please check out the schedule on the conference website. You may notice the "Launch Lunches" that occur from 1:00-1:30 CST throughout the week. During these sessions, partners in agroforestry will be sharing exciting work and initiatives. The conference organizers are keeping this information under wraps, so stay tuned for Launch Lunch announcements during the conference!
If you have any questions about the conference or registration, please feel free to contact us at: afta_editor@aftaweb.org.
Editor in chief, Christine Nieman
We hope to see you there (virtually)!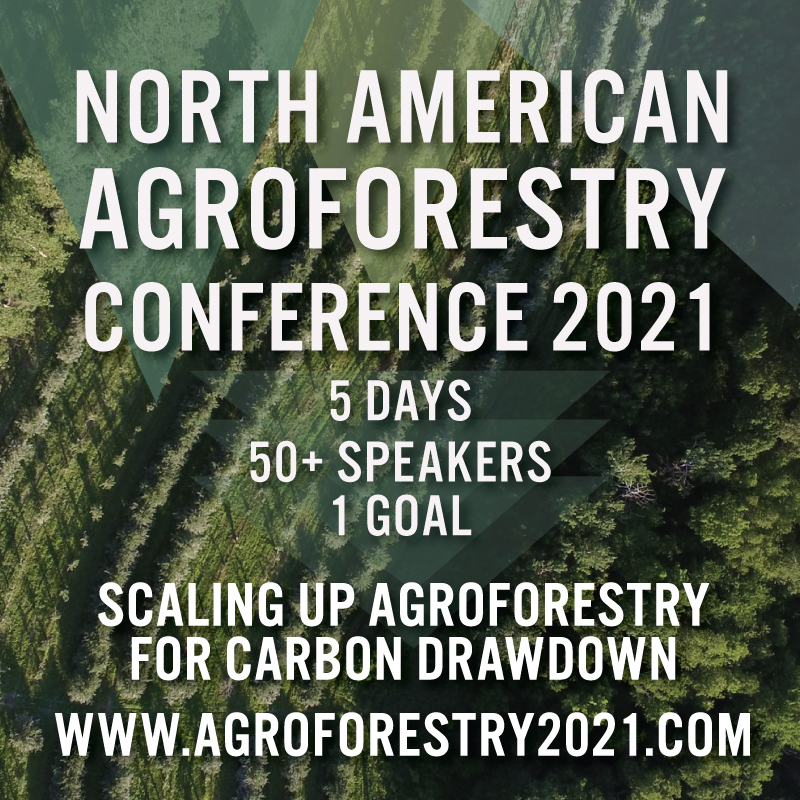 Membership
Are you interested in becoming a member of AFTA or need to renew? If so, get started clicking here. Remember, if you are a member you can recieve a $35 discount on your conference registration. If you have been a member since March, you should have received the discount code in your email, check your inbox! If you are new member, feel free to email afta_editor@aftaweb.org for the discout code.
Contents
NAAC 2021 Conference
The NAAC conference will have 9 different conversation-based talks with topics that explore the opportunities offered by agroforestry. We have highlighted a few speakers here and their plenary topics. Remember to register for the virutal conference here: https://www.savannainstitute.org/agroforestry-2021/

Read More
NAAC 2021 Conference
Who will be speaking at the North American Agroforestry Conference? Look here! We will have several exciting and innovative leaders with passions for agroforestry and carbon drawdown. Remember to register for the virutal conference here: https://www.savannainstitute.org/agroforestry-2021/

Read More