Hello Visitor,
Welcome to the Dec 2017 version of the Temperate Agroforester. The newsletter welcomes contributions for future issues and input or feedback about anything that you read in this issue.
Uma Karki, Christine C. Nieman, Steve Gabriel, Diomy Zamora and Callie Maron, Editors - Temperate Agroforester
Events
Jan 25th. 8:30am-6:00pm CST. 9th Annual UMCA Agroforestry Symposium. Soil Health in Diverse Cropping Systems. Bond Life Sciences Center, University of Missouri, Columbia, MO
Call to Action
AFTA needs you! We need your research updates, blog posts, news items and other information to inform our followers. Contact: Andres Anchondo. We are also looking for volunteers to help with membership engagement and website content. Volunteer today to help keep AFTA moving foward.
Membership
Are you a member of AFTA? If not consider joining by clicking here. Your membership gives you access to the members-only area, discounts on conference registration, and helps support AFTA's mission to promote agroforestry.
Contents
Todd Kellerman, USDA National Agroforestry Center

The Prairie States Forestry Program (PSFP) was initiated in 1935 to combat severe soil erosion from the Dust Bowl years. Over the course of the next 7 years, the U.S. Forest Service, working with the Works Progress Administration and the Civilian Conservation Corps, planted nearly 220 million seedlings in the Great Plains. These plantings, known as windbreaks or shelterbelts, created 18,600 miles of linear strips of trees from North Dakota through Texas (Williams 2005). Windbreaks play an important role on the landscape in the plains region. These linear plantings of trees and shrubs are designed to enhance crop production, protect structures and livestock, and benefit soil and water conservation (Figure 1). Windbreaks also provide habitat for wildlife and pollinators, sequester carbon, provide income opportunities and enhance aesthetics.
Read More
Alan Franzluebbers, USDA-Agricultural Research Service, Raleigh NC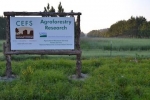 Contemporary agricultural systems do not fit on all landscapes in the southeastern US. Researchers at the Center for Environmental Farming Systems' Field Research and Outreach Facility at Cherry Research Farm in Goldsboro, North Carolina discovered this when they tried to grow corn and soybean in rotation on a floodplain site with a wide diversity of soil texture and slight variations in elevation (Figure 1). During the first several years, yields were either drought-affected on the sandy hummocks and acceptable elsewhere or decimated in low-lying areas due to flood waters and excessive moisture that rotted crop roots. Fortunately, with the vision of Dr. Paul Mueller, the site was also planted with rows of trees to create a mixture of agriculture and forestry. Once trees became large enough to be pruned of their lower branches and allow people and animals to move under them, investigators transitioned the site from alley cropping to silvopasture – the intentional mixture of trees and pasture.
Read More