The Savanna Institute's 2019 Perennial Farm Gathering (PFG) was held Dec. 6-7th at the Sinsinawa Mound Center near Dubuque, Iowa (Figure 1). This year's gathering had over 235 attendees and featured a variety of presentations, workshops, and networking opportunities for Midwestern agroforestry enthusiasts.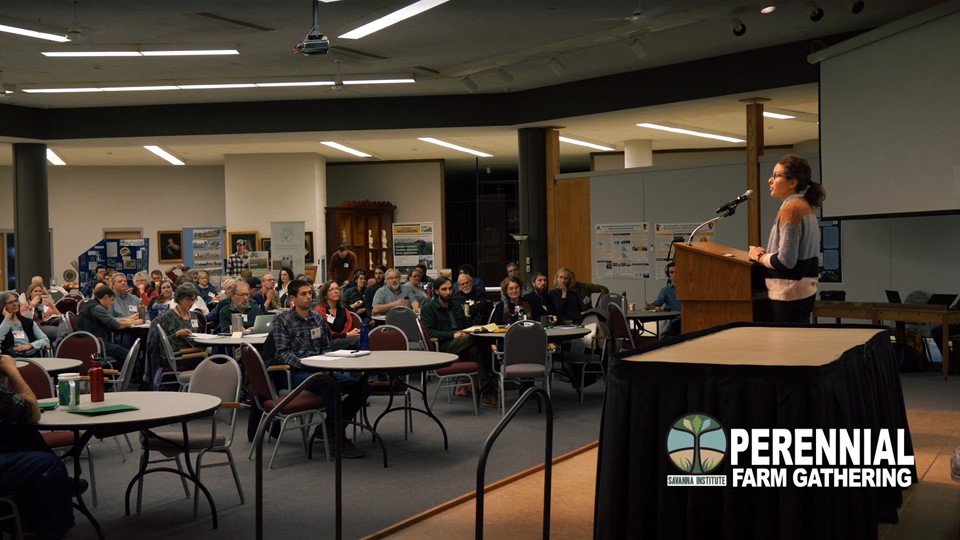 Figure 1. An attendee addresses the audience during the 5-minute "Nutshell" talk portion of the 2019 Perennial Farm Gathering.
2019 was a year of significant growth for the Savanna Institute. In addition to hosting the largest Perennial Farm Gathering to date, the Savanna Institute produced a Hazelnut Impact Investment Plan for the Midwest (available at https://mailchi.mp/savannainstitute/hazelnutiip), launched an on-farm agroforestry apprenticeship program, produced over 30 free online videos and webinars, developed a free series of agroforestry infographics and "Key Perennial Crop" infographics, established the organization's first agroforestry demonstration farm at Silverwood Park near Edgerton, Wisconsin, and finalized plans to establish three additional demonstration farms in the coming year. These efforts culminated in the 2019 Perennial Farm Gathering, the Savanna Institute's biggest yearly event.
The 2019 PFG included attendees from 15 different states, with the majority coming from Wisconsin, Iowa, and Illinois. This is the seventh time the gathering has been held and the first time it was held at this location. The Sinsinawa Mound Center, which is operated by the Sininsawa Dominican Sisters, is in the process of restoring a native oak savanna on the property, and attendees received a guided tour of the restoration during the gathering.
Both mornings of the PFG began with the popular 5-minute "Nutshell" talks, in which participants were invited to introduce themselves and speak to the entire group for up to five minutes, with or without slides, about their recent and upcoming work. In the afternoon, breakout sessions gave attendees the opportunity to hear presentations on specific topics including chestnut, hazelnut, and elderberry production and marketing, silvopasture, grafting, beneficial insects, online marketing, financing perennial agriculture, farmer and landowner matchmaking, and perennial farmland preservation (Figure 2, Figure 3).
Figure 2. Lupe Rios of Forrest Keeling Nursery leads a mini-workshop on tree grafting.
Figure 3. Savanna Institute staff member Wil Crombie answers audience questions during a breakout session on online marketing.
Friday evening ended with a plenary presentation by three young American perennial farmers who had recently toured European agroforestry systems: Dayna Burtness, Eliza Greenman, and the Savanna Institute's Kevin Wolz. The three shared photos, stories, and lessons from their travels in France, Spain, Italy, and the UK. The evening concluded with social time and a Perennial Tastings event featuring live music, perennial hors d'oeuvres, and beverages provided by attendees including apple cider, currant varieties, elderberry products, and more.
The keynote presentation, "Decolonizing Agriculture: Building a Food Insurgency", was delivered by Reginaldo Haslett-Marroquín, President and CEO of the Regenerative Agriculture Alliance. Haslett-Marroquín emphasized the role of perennial farming practices as a way to disrupt unjust social systems and address social and environmental crises through what he described as the indigenous mindset. A native Guatemalan, Haslett-Marroquín is the author of In the Shadow of Green Man: My Journey from Poverty and Hunger to Food Security and Hope, and is the principal designer behind the TreeRange Chicken brand and production system (Figure 4).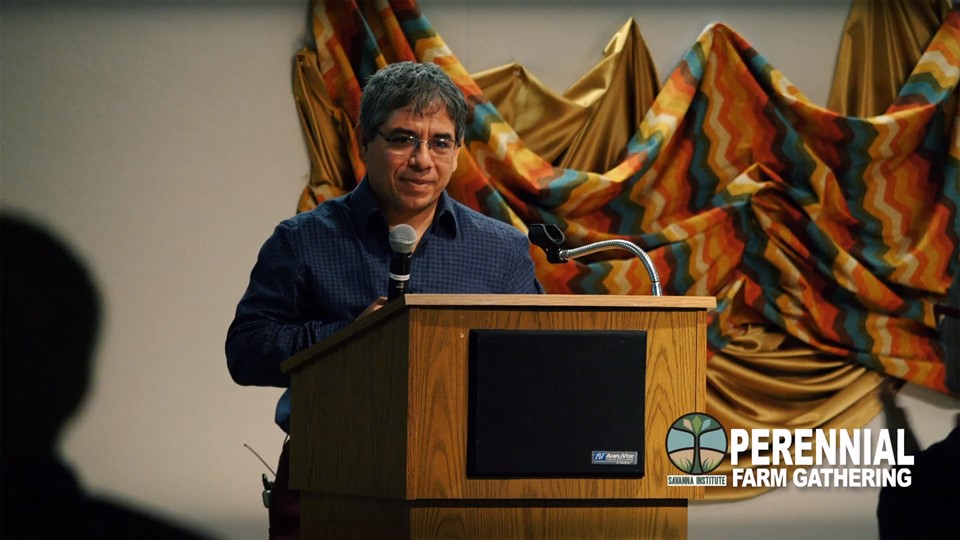 Figure 4. Keynote speaker Reginaldo Haslett-Marroquín receives a standing ovation at the end of his presentation, "Decolonizing Agriculture: Building a Food Insurgency".
Additional speakers included Eliza Greenman of HogTree Farm in Virginia, who spoke about opportunities for incorporating hogs and other livestock into orchards; Terry Durham of the Midwest Elderberry Cooperative and River Hills Harvest, who led a breakout session on elderberry production, processing, and marketing; and Tom Wahl of Red Fern Farm in Wapello, Iowa, who co-presented with the Savanna Institute's Bill Davison on opportunities for expanding the chestnut industry in the Midwest.
Drawing a mix of farmers, researchers, students, agriculture professionals, and landowners, the PFG began as a handful of agroforestry enthusiasts meeting in basements and barns throughout the Midwest, but steadily grew in size to over 235 attendees at the seventh PFG held this year. The previous two PFGs were held in Madison, Wisconsin, with 170 attendees in 2018. While most speakers and sessions focus on agroforestry, the event is intended to support all aspects of perennial agriculture including managed grazing, financing, marketing, habitat management, and more.
The Savanna Institute is planning to hold the 2020 Perennial Farm Gathering December 11-12 in Madison, Wisconsin. You can learn more at savannainstitute.org.