With significant advances in the science of agroforestry over the last 20 years, ongoing agroforestry education programs for natural resource professionals and extension agents have fostered awareness of opportunities to provide productivity and profitability with environmental stewardship. However, agroforestry is severely underrepresented in secondary education environments (Williams 2000), where a growing number of agriculture students are exposed to agricultural focus areas that guide their life-long career paths. In Missouri, the focus state for this pilot agroforestry education project, more than half of students who are enrolled in a high school agriculture program will pursue an agricultural profession after high school (DESE 2016). Nationally, more than 70% of farm operators do not pursue a college degree, further indicating the foundational role of the high school agriculture program (USDA-ERS 2012).
Students who participate in a high school agriculture program in the U.S. may be involved not only in class, but also will compete for regional, state, and national awards at one of 25 subject-specific Career Development Events (National FFA Organization 2016). The majority of these students also take part in entrepreneurial Supervised Agricultural Experience Projects to demonstrate their capacity to apply agriculture concepts to real world scenarios. In each of these components of agricultural education, high school agriculture teachers facilitate student learning. In Missouri, 480 high school agriculture teachers play an important role in crafting and delivering an education to more than 35,000 students (DESE 2016).
In an effort to begin the process of high school agroforestry education implementation, the University of Missouri Center for Agroforestry has collaborated with high school agricultural educators and professional development organizers to introduce an agroforestry curriculum to the 2017 agriculture science program in Missouri. With the support of a SARE Professional Development Program grant, 28 educators (of 90 total to be reached by 2019) have been trained to employ a set of agroforestry lessons and hands-on activities.
These educators, who are diverse in teaching experience and location within Missouri, were provided with agroforestry curriculum materials and subsequently completed in-class problem-solving activities, field exercises, and hands-on practice during one of two summer professional development programs designed to grow their content knowledge and pedagogical knowledge for teaching agroforestry (Figures 1 & 2).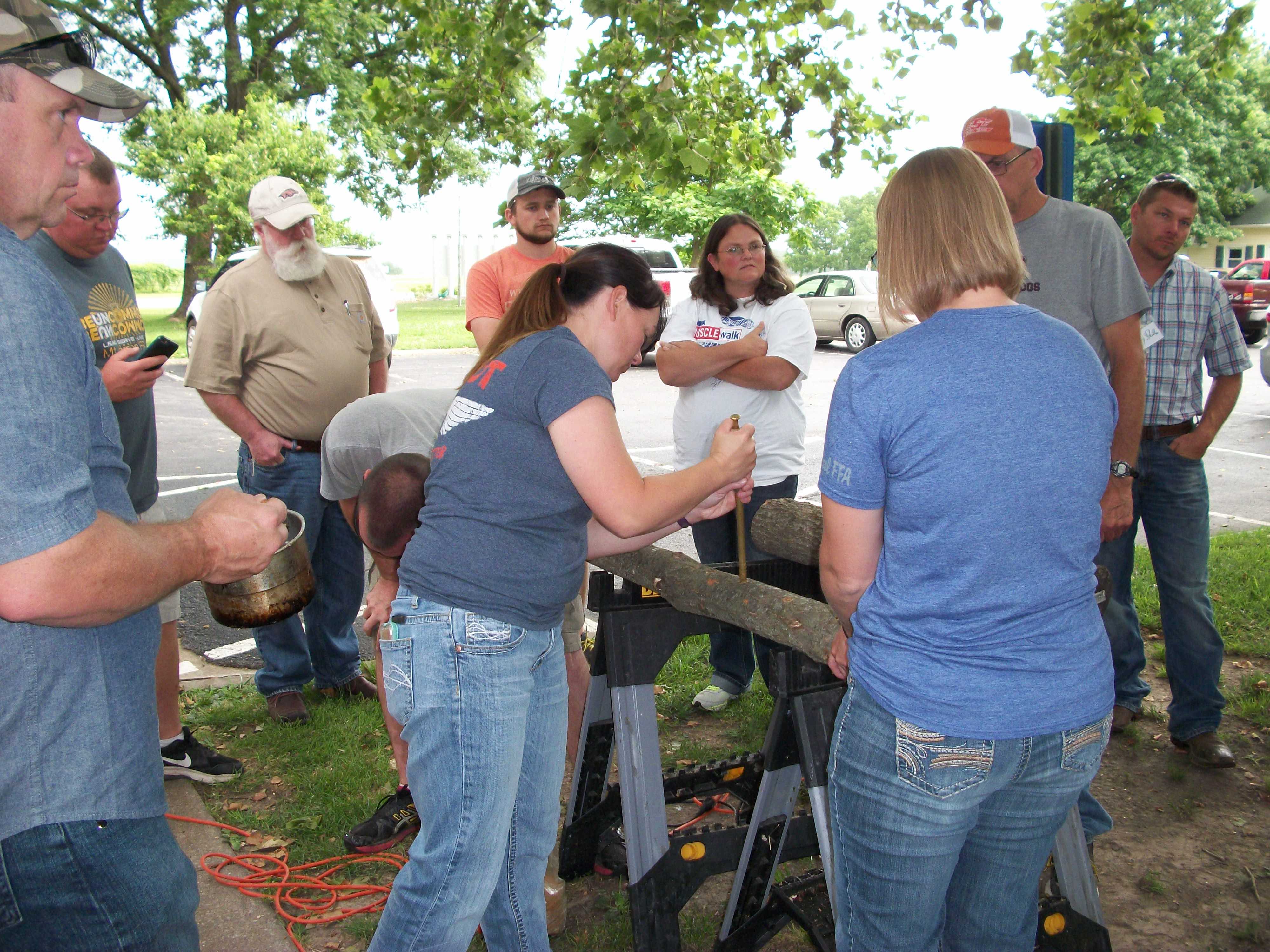 Figure 1. Missouri agricultural educators inoculate shiitake mushroom spawn into wood logs at South West Research Center in Mount Vernon, MO to bring forest farming concepts back to their classrooms. Photo: Michael Gold.
Figure 2. Missouri agricultural educators learn from their peers at Mount Vernon High School about incorporating an orchard on school grounds. Photo: Michael Gold
During each of the two one-day agroforestry educator professional development events, teachers were asked to complete a pre- and post-workshop survey. The surveys were designed to describe participating teacher demographics, assess teachers' agroforestry content knowledge growth, and estimate the growth in the number of classroom hours dedicated to agroforestry content that the teachers planned to offer as a result of the program. Survey results revealed that prior to the event, teachers included an average of 5 hours (2016) and 12 hours (2017) of agroforestry topics in their classes (Figure 3). Following the workshop, these teachers planned to include an average of 18.3 hours (2016) and 20 hours (2017) of agroforestry content in their classes. In sum, the number of classroom hours dedicated to agroforestry in high school agriculture grew by more than 270 hours among this group of 28 teachers (2016 and 2017).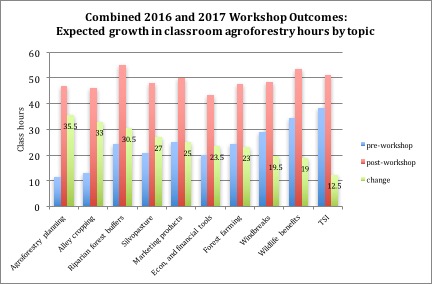 Figure 3. Combined 2016 and 2017 workshop outcomes: Expected growth in classroom agroforestry hours by topic.
*Two content areas, keyline design and biomass, were removed from the 2017 survey that were included in the 2016 survey in order to more accurately represent the content areas covered during the professional development programs.
Agricultural educators are expected to teach content areas that vary widely, from crop science and livestock management to mechanics and marketing. Additionally, these educators are motivated to maintain up-to-date materials in order to prepare their students for current agricultural realities and for success at Career Development Events. As a result, agroforestry content is likely to be taught when it is included in the CDE assessments, and when it is seen as relevant to student career success. Increased interest in agroforestry-related Supervised Agricultural Experience Projects, such as mushroom cultivation, elderberry or woody floral cultivation in buffer strips, or silvopasture applications to livestock projects may also advance the perceived relevance of agroforestry concepts to these educators. As agroforestry content areas become more widely accessible to educators and students across the nation, we expect that students entering careers in agriculture will carry this understanding to the field.
If you would like to know more about the piloted agroforestry educator professional development programs and high school agroforestry curriculum, please contact Hannah Hemmelgarn at the University of Missouri Center for Agroforestry, This email address is being protected from spambots. You need JavaScript enabled to view it..
References
Department of Elementary and Secondary Education (DESE) (2016) Agricultural Education in Missouri. www.dese.mo.gov. Accessed December 1, 2016
National FFA Organization (2016) Career and Leadership Development Events. https://www.ffa.org/participate/cdes. Accessed August 10, 2017
US Department of Agriculture Economic Research Service (2012) Share of principal farm operators with college degrees has increased. http://www.ers.usda.gov/data-products/chart-gallery/detail.aspx?chartId=32868. Accessed June 12, 2016
Williams, D (2000) Students' Knowledge of and expected impact from sustainable agriculture. Journal of Agricultural Education, 41(2):19-24.