Efforts to grow markets for sustainably produced non-timber forest products (NTFPs) are often hindered by a lack of the kinds of basic market information available in agriculture and forestry. For most NTFP species, there are no reliable, consistent data on the average price paid to producers, how much is produced annually, or where products originate. This lack of knowledge leads to instability in the market and increased risk for potential forest farmers, as well as harvesters and buyers in the traditional supply chain. A new website called RootReport offers an integrated way to conduct NTFP market assessment and make that data available to stakeholders.
Since 2012, researchers at Virginia Tech (Steve Kruger, John Munsell and Steve Prisley), the US Forest Service (Jim Chamberlain), NC State University (Jeanine Davis), and UVA-Wise (Ryan Huish), have worked to create a voluntary, confidential method for measuring the production of medicinal plants harvested in eastern deciduous forests. We began by distributing surveys to registered ginseng (Panax quinquefolius) dealers in Virginia. Ginseng dealers were used as the initial sample frame because they are required to purchase licenses, and because most of the eastern woodland medicinal species, such as goldenseal (Hydrastis canadensis), bloodroot (Sanguinaria canadensis) and black cohosh (Actaea racemosa) are harvested and sold by people who work with ginseng. The study now covers 15 states. The approach was modeled on the Forest Service's Timber Product Output program, previous NTFP studies and participatory and reciprocal research methods. In addition to providing quantitative data about the species they purchase, buyers were interviewed about their experience with the root and herb trade, and provided feedback about our work, including concerns about participating, and potential research and extension deliverables.
RootReport was designed and released in Spring of 2016. Our goal was to raise interest and buy-in by building reciprocity into the study design. We wanted there to be one place where participants could learn about our work, see results, find resources and participate if they chose to. We publish data each year to help harvesters, buyers, growers and forest managers make market decisions. We work with participants to make the results accessible and in a format useful for them and as well as other NTFP stakeholders. This is done without compromising confidentiality or drawing broad conclusions not contained in the data. The result is an annual summary document with information about trade volume and prices for 13 species, harvest distribution by multi-county zones (designed to give an idea of product origin while not revealing purchasing habits of individual participants), and some analyses of multi-year trends. Participants also identified dozens of other products being purchased with potential use in agroforestry systems. Throughout the site we link to an online version of the survey, which creates a sense of integration between the data being presented and how it is created, and can now reach respondents outside of our buyer network.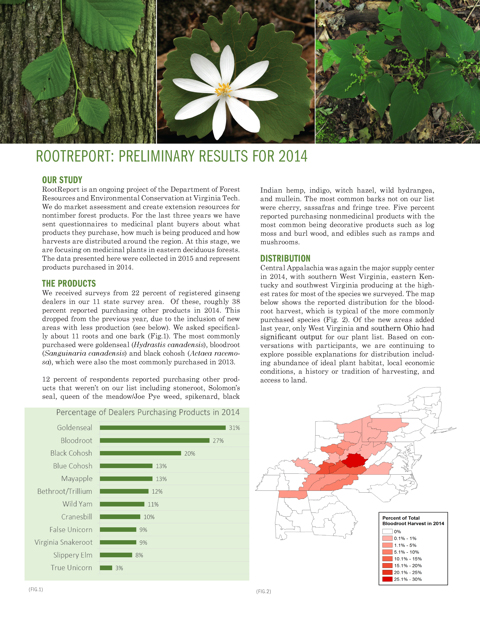 In addition to being a place for reporting results, we envision RootReport as a general NTFP resource. We are creating factsheets for individual products with plant profiles and more detailed market data from the project, as well as information about cultivating forest botanicals, stewarding populations and processing plant material. We also want users to connect with the rest of the NTFP and forest farming community. We link to other NTFP research and extension programs, and the growing number of institutions and organizations helping producers and buyers. These include local and regional NGOs, cooperatives, trade organizations and branding initiatives.
As the first phase of our project comes to a close, we are looking for ways to improve and grow RootReport. We hope to gather feedback on the website's content and design, and make it more responsive and user-friendly. Participants have suggested additional deliverables such as research on facilitating salvage harvests, certifying good stewardship practices, helping buyers and harvesters comply with Industry Best Practices and measuring the trade's economic impact. We also to hope to see this model spread to other regions and product supply chains.
This project was made possible by a grant from the US Forest Service, USDA. For more information, visit RootReport at www.rootreport.frec.vt.edu