Hello Visitor,
Welcome to the May 2018 version of the Temperate Agroforester. The newsletter welcomes contributions for future issues and input or feedback about anything that you read in this issue.
Uma Karki, Christine C. Nieman, Steve Gabriel, Diomy Zamora and Callie Maron, Editors - Temperate Agroforester
Events
May 28-30, 2018. 4th European Agroforestry Conference. Agroforestry as Sustainable Land Use. Nijmegen, The Netherlands.
Call to Action
AFTA needs you! We need your research updates, blog posts, news items and other information to inform our followers. Contact: Andres Anchondo. We are also looking for volunteers to help with membership engagement and website content. Volunteer today to help keep AFTA moving foward.
Membership
Are you a member of AFTA? If not consider joining by clicking here. Your membership gives you access to the members-only area, discounts on conference registration, and helps support AFTA's mission to promote agroforestry.
Contents
Emily Sigman, Yale School of Forestry and Environmental Studies, Yale Jackson Institute for Global Affairs

What does a university landscape look like? What does it feel like? And what does it accomplish?
Google image search the terms 'college campus' and you'll get a good sense for what we collectively think the university landscape looks like. Pages and pages of results return images of sprawling lawns dotted with occasional ornamental trees; some images are entirely devoid of people, some show people walking across or through the landscape, and just a few might show a student or two sitting or lying on the ground. Beyond this, there is not a single image in the first 10 pages of Google results that show people interacting with the plants in the university landscapes that surround them.
The way university landscapes look—often by their very design—elicit particular feelings and worldviews about how successful, educated human beings interact with their environments. Indeed, non-interaction is regularly the assumed status quo in the relationships that students, faculty, and visitors have with the college campus. University landscaping tends to feel ornamental, with plants carefully placed to serve as a background to lives and activities otherwise separated from their immediate environments.
Read More
Dold, C.; Thomas, A.L.; Sauer, T.J.; Ashworth A. J., Philipp, D., Adams, T.C.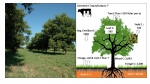 Climate-smart agriculture is an approach, which, among other objectives, helps mitigate greenhouse gas emissions from agricultural production (FAO 2018). Agroforestry systems (AFS) have drawn attention as climate-smart enterprises for temperate and subtropical regions, as they provide high net carbon (C) gains per area, while diversifying operations (Schoeneberger 2009; Schoeneberger et al. 2012). This article focuses on silvopastures (i.e., AFS with trees, forages, and livestock), but many aspects also apply to AFS in general. Estimated C sequestration rates for silvopastures in North America (i.e. trees, roots, and soil) range from approximately 1,600 – 5,400 lb per acre per year (Nair and Nair 2002; Udawatta and Jose 2012). The high degree of variation originates from the complexity of AFS (i.e., soil, climate, species composition, plant density, management, and AFS design). The online-tool COMET-Farm (Carbon Management Evaluation Tool) accounts for these differences, and provides producers the possibility to calculate C sequestration in AFS (Merwin et al. 2009; Ziegler et al. 2016; COMET-Farm 2018). Still, there is limited understanding of the variation in C pools (i.e. where C is stored in AFS and in what fraction) and fluxes (i.e. annual rates of change), especially as AFS mature, which is usually accompanied by reduced C sequestration rates. A comprehensive C budget (i.e. how much carbon enters and leaves the system) helps to understand where C is stored and how these C pools change over time. In general, the important C pools in silvopastures are the soil, trees, and forages. Trees and forages can be subdivided into categories, above- and below-ground biomass. The tree above-ground C pools are wood (twigs, branches, and trunk), leaves, and fruits, and for forages, the living green material and litter. The below-ground biomass is the tree and grass roots, plus associated organisms such as mycorrhizae. Another important C source is organic fertilizer, which introduces C from outside the system. Livestock also contributes to the C budget, through manure inputs and methane emissions.
Read More